ABOUT A1
Our company has over 30 years of proven experience earning us the solid reputation we hold. We pride ourselves on being a strong team of industry innovators with a substantial track record in our industry. Founded in 1989, A1 was the first company to both Rent and Sell linens nationwide. We developed efficient methods of getting linens to customers at a fair price within the short lead-time that the Special Events industry has grown accustomed to. Currently, we service every state in the U.S. along with many international venues and businesses. We continue to innovate with the growth of In-house Custom Printing, the addition of cutting-edge fabric designs to our Designer Collection and exceptional customer service. Get in touch with us today about how we can be your one-stop-shop linen provider.
---
SALES
We carry a large variety of fabrics to purchase. We manufacture to order at our facility in New Jersey – this enables us to provide our standard tablecloths, napkins, runners, skirts, drapes and chair treatments as well custom items made to your specifications. Whether it's an over-sized chair, an odd sized table, or a drape for a backdrop, we can cut and sew it for you. We can even source a fabric you have in mind to cut and sew into any size of your choice.
---
RENTALS
From 1 cloth to 5,000 chair covers, A1 can handle your requirements. Items include tablecloths, napkins, runners, skirts, drapes, chair covers, sashes and seat cushion covers.
We know your customers are fussy, so we treat our rental inventory as you treat yours – we keep the clean and discard the unacceptable.
Our rental period consists of a 7 day time period giving you ample time to receive your goods prior to your event setup.
We provide the service you can count on. We deliver what you want, when you need it, even overnight if requested.
---
WE CARE ABOUT THE ENVIRONMENT
From product development to operations, we take our ecological impact into account. A major deciding factor when choosing to do business with a company is environmental impact and efforts put forward for sustainability. We want you to rest easy knowing that your purchases with us support positive green initiatives. Here's a look at our current eco-friendly operations:
We developed Eco-Polyester, a green alternative to our White Standard Poly. Compared with Standard Poly, it's manufacturing process uses 52.6% less energy and emits 54.6% fewer CO2 emissions
Our manufacturing and laundry facilities are run completely on solar power.
In 2020, we upgraded the lights in our building to LED lighting on motion activated timers.
We recycle all of our corrugated and office paper
We recycle or reuse all of our linen scraps
We reuse the wastewater in our laundry where possible
We use a heat reclamation system to preheat our incoming water for our laundry
We continue to strive toward a paperless work environment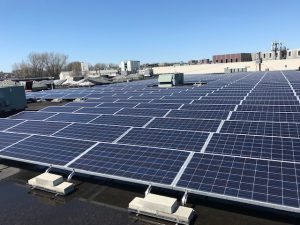 ---